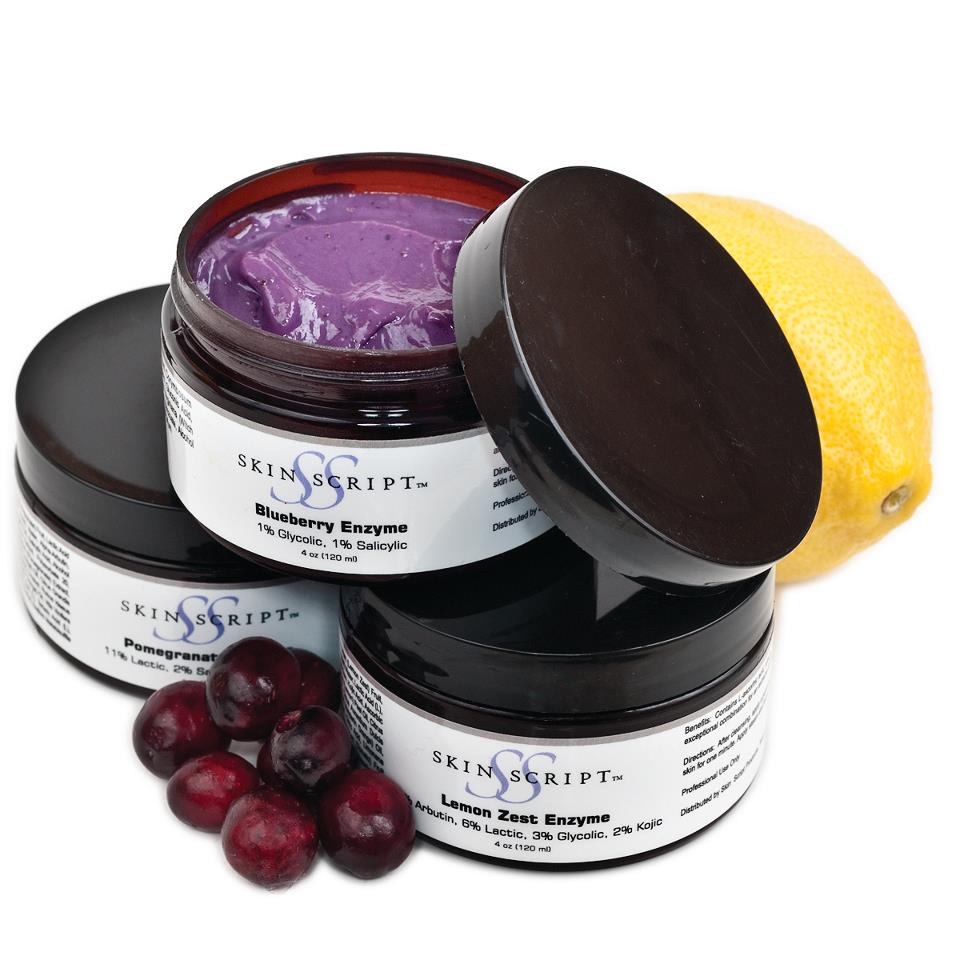 Skin Script Enzyme Facials $75...55 min

Skin Script RX Skin Care is natural, yet clinical skin care designed for anti-aging, hyperpigmentation, melasma, sun damage, teen and adult acne, rosacea. Antioxidants, exfoliants, and natural brighteners are the base of this skin care line to achieve remarkable results.
Smoothing Coconut-Papaya —Good for sensitive and Rosacea skin. Great to exfoliate, heal, protect and beautify your skin. This facial calms skin irritation and restores circulation to help brighten dull skin.
Rejuvenating Raspberry-Peach — for all skin types—packed with antioxidants, and is great for Mature/Aging skin. While removing dead skin cells, it also firms, soothes and hydrates irritated skin. Leaving a beautiful healthy glow.
Brightening Lemon Zest — for normal, dry, hyperpigmentation, sun damage skin types. Exfoliate and brighten the skin with the antioxidant and brightening benefits of lemon. Promotes deep hydration and protects against environmental damage relieving the surface signs of aging
Powerful Pomegranate— for oily/combination skin, mild acne, hyperpigmentation, sun damage and melasma. Pomegranate is a powerful antioxidant which also brightens the skin. Promotes deep hydration, reduces oiliness and lightens the skin from irregular pigmentation
Clarifying Blueberry —all skin types except sensitive and rosacea. Powerful antioxidants that digest dead skin cells, soften sebum and minimize pores. Blueberries are a perfect anti-aging treatment that will create a healthy glow.
*Firming Passion Fruit —for skin in need of firming. Not recommended for rosacea or sensitive skin. Passion fruit enzyme is meant to increase blood circulation and firm the skin. A natural enzyme, as well as a great antioxidant to give the skin a healthy glow. *Excellent with LED or Micro-current