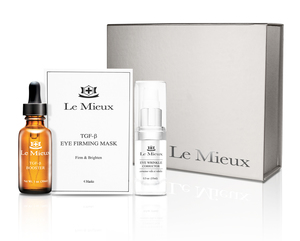 Mothers Day Gift Sets $100 Each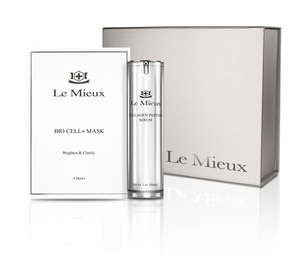 Eye Got You, Mom / 3pcs
TGF-B Booster
Award-winning, hyaluronic acid-based serum with 4 potent peptides, 5 revolutionary proteins, 5 powerful antioxidants, and natural algae extract deeply hydrates to promote firmness, reduce the appearance of fine lines and wrinkles, and restore a healthy glow. Boosts results when used with other skincare products. Features Acetyl Octapeptide-3 (SNAP-8) and Superoxide Dismutase for extreme anti-aging benefits.
TGF-B Eye Firming Mask 4 pcs
This cooling eye mask dramatically minimizes the appearance of expression lines, dark circles, and puffiness around the eyes. Features 3 potent peptides, red and green algae extracts, and hyaluronic acid in a sophisticated micro-delivery system to smooth, brighten, and firm the eye areas while stimulating collagen synthesis.
Eye Wrinkle Corrector
This lightweight, bio-cellular complex features 7 potent peptides to help firm and lift eye contours, while visibly minimizing the appearance of fine lines, wrinkles, puffiness, and dark circles. Vital amino acids, multi-vitamins, algae extracts, and powerful antioxidants help resurface the delicate eye areas without irritation for a bright, healthy, youthful appearance.
Give Mom a Lift / 2pcs
Bio Cell Mask 4pcs
Serum-saturated, marine collagen mask incorporates peptide technology in an advanced microencapsulation delivery system for unparalleled results. Features 2 potent peptides, freeze-dried marine collagen, powerful antioxidants, Vitamin C (MAP), and 8 botanical extracts to hydrate, brighten, and improve the appearance of sagging facial contours.
Collagen Peptide Serum
FIRMING / Intensive Face Firming Complex This concentrated, creamy serum is a potent blend of 4 skin-contouring peptides, moisture-binding hyaluronic acid, nourishing ceramides, and marine algae extract that dramatically improves the appearance of sagging facial contours. Double-encapsulated, timed-release technology provides targeted absorption. Features teprenone, a plant derivative that protects the tips of chromosomes, extending the lifespan of skin cells and facilitating cellular repair.